House extension or thinking about extending?
A well designed and built extension provides you with extra living space and directly increases the value of your home. We can tender on your drawings or quote on a design and build basis.
During the quotation site visit, we will endeavor to challenge you with ideas and lateral thinking about the scheme. This is then translated into a detailed quotation so that we all know what is priced for. You will often hear us say "I'll throw balls in the air, it's up to you which ones you catch"
Worried about having the work done?
Robinsons realize that carrying out building can be disruptive to the home and those who live there. We know that for some people it can be a very stressful time and we work very hard to acknowledge this process and remain sensitive to our customers needs.
Sadly there are many builders out there to be wary or worried about. Use a reputable contractor who can obtain references from previous builders and make sure you get a detailed quote so you know what you are paying for. F Geo Robinson will do there utmost to ease those fears and at the same time I know that until we know each other better those fears are likely to be present.
Building regs and Planning Permission. 
Planning regulations changed last year and some schemes do not require permission. Visit the governments planning portal for information or contact us and we will take you through the process in conjunction with our designers.
Does your project require building regulations? Again we can help you through this process and further information is available on the planning portal building regulations website.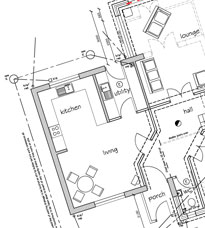 Case Study 1
Single storey Extension in Finham Coventry
Design and build of a single storey infill extension to the rear, plus removal and renewal of roof to kitchen.
Mrs W wanted a room that was well lit, which was achieved by creating a full height sloping ceiling with Velux type rooflights and careful consideration to the lighting.
Mrs W said "I am really pleased with the end product. There have been some minor niggles, however I was always listened to and the niggles were addressed"
Case Study 2
A customer's journey 
Case study of a project in South Coventry circa 100k 
It started with our customers worry about their dilapidated garage and the alarming bulge in the wall. They employed the service of Vagdia and Holmes architects and they sowed the seed of going two storey and maybe a loft conversion.
FGR were involved at an early stage by Vagdia & Holmes to collaborate and provide budget costings during the development of the design. It soon became apparent that the loft conversion was beyond budget, yet the customer had a long-term vision for their building and a design that incorporated this. It also allowed for the structure to be made ready and electrics and heating pipework to be brought into the area to lessen future disruption and associated costs. We advised a holistic approach to the building that avoided duplication of costs and the comment "I wish we had thought of that at the time"
It's the designers job with builders assistance to try and future plan, so that the customer can say "I'm glad we planned for that at the time"
We worked with Vagdia & Holmes as job architects and of course the customer during the build, resolving issues such as foundation and drainage issues as we went along.

Garage before hand


Outside before hand


We have never had an endorsement as delightfully creative as this poem, graffitied onto the floor by the customer


No matter how hard we try, its only a building site until its lived in. I understand the daughter had a hand in the interior design of her new bedroom and didn't she do well. She said "It's the best room in the house.


The refitted bathroom


The garage after shot




If our customer is delighted, then so are we. Another thumbs up for FGR. The only problem is we might ask you to do a cheesy thumbs up pic. (You can always say no to that bit!)

Case Study 3
Extension and conversion of bungalow to Dormer bungalow.
Robinsons were involved from the design stage to completion. We carried out cost excercises to assist the client in making decisions about the final scheme.
Our client bought a dilapidated bungalow in a pleasant village location. The property has been transformed from a small retirement type bungalow to a large family dwelling.
This is an ongoing project and new photos will follow.