Loft conversions are a great way to add living space to your property at an economical cost and that extra room will also add to the overall valuation of your house. They often become the room in the house with the most character, the hidden room at the top of the house, having lots of light, sloping ceilings and a great view. A new bedroom, office or snug to get away from it all. F Geo Robinsons will help you through every stage of the process to ensure your requirements are fully met and implemented.  
Roof windows
The least disruptive and most economical way to form a loft space is to fit Velux or similar type rooflights. They also fit snugly into the existing rooflines to minimise any visual impact. Have a look at the manufacturers website, they have some great ideas www.velux.co.uk. This option works best with steep roof pitches and a high ridge line, the disadvantage is that it restricts the stair positioning.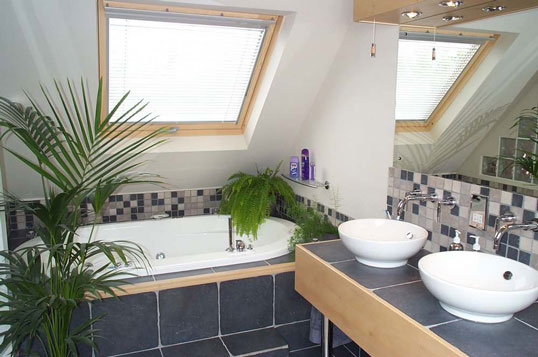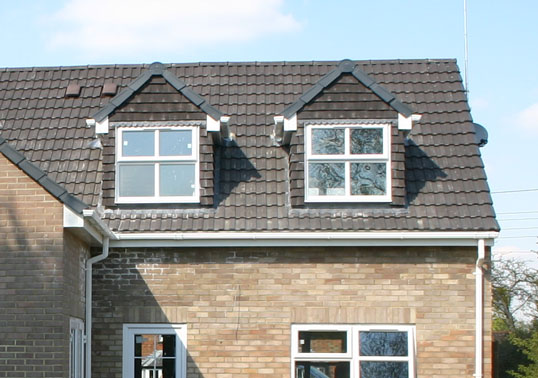 Dormer Conversions
To increase the range of options with stairs and give extra space we can build a dormer
(Flat roofed or pitched) or a combination of Dormer and rooflights.
Do I need planning approval?
Planning laws changed on 1st October 2008 and very often planning is not required for loft conversions although there are exceptions. The loft conversion guidelines are available to view. If you wish to view them please click here alternatively download the pdf guide.
Do I need building regulation approval?
Building regulations approval is required to convert a loft or attic into a liveable space. These regulations include requirements to ensure that the extra weight imposed by the new use is carried effectively, that the stability of the building is maintained when altered, that you as occupiers are as safe as can be in a fire, that stair acces is safe and that other current regulations are complied with.
Do I have to deal with all these regulations?
Robinsons are quite happy to work to clients drawings and there are advantages to the client retaining a greater level of control over the design process. We can recommend designers if that is the route you choose. We also appreciate that many of our clients don't want the hassle of dealing with the designer direct and simply want an all in package and price from inception to completion. Martyn Blair, the Managing Director, particularly enjoys the ideas stage of the process and offers his experience and skill in teasing out what the customer wants and at the same time leaving them with choices and the decisions. There is a satisfaction for us in moving from a vague idea, to I didn't realise there were so many choices and decisions, through to "this is what the customer wants". As part of this process we employ designers on your behalf.